A safe, contactless way to pay tolls while avoiding long queues and searching for coins or credit cards.
Two Easy Ways to Add EXPRESSTOLL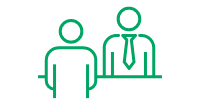 Add EXPRESSTOLL to your rental when you pick up your vehicle and use the installed transponder.
During your rental activate the EXPRESSTOLL transponder by following the directions on the device.
A
dd EXPRESSTOLL from €4.86/day* (incl. VAT) plus the cost of tolls
Select your rental agency below for more information and coverage details.
*Meaning midnight to 23:59 of the rental (even if the transponder was activated after first day of rental) not to exceed €24.30 (incl. VAT) per rental period ("Service Fee"). Service Fee will be charged regardless of toll usage. The amount of each toll, which will be the higher of the applicable toll authority's video toll rate, cash toll rate, or highest undiscounted toll rate ("Toll Fee").